Our Products are handmade to order.

Most orders ship in 3-5 Business Days. Larger orders may take up to 7 business days to ship out.

Free Shipping on $35+
Regular price
$10.00 USD
Sale price
$5.99 USD
Unit price
per
Sale
Sold out
In stock
Ordering Questions? Click here.
Do you have a cherished photo that holds a special place in your heart? Protect it from wear and tear in your wallet or purse by ordering our remarkable aluminum photo card. This exquisite card ensures that your beloved photos will last longer than any printed paper photo ever could!
Crafted with utmost care, our aluminum photo card is made of sturdy aluminum material, guaranteeing durability and longevity. It is conveniently sized like a standard business card, allowing you to carry your treasured memories wherever you go.
With a pearlized finish and a permanent dye sublimated print, your photo will be brilliantly displayed on both sides of the card. Unlike stickers or vinyl that can peel or fade, our printing technique ensures that the image is permanently infused into the card's surface. Rest assured, your memories will remain intact and vivid for years to come.
Not only is our aluminum photo card scratch-resistant, but it also offers the versatility of featuring either the same photo on both sides or different photos on each side. The choice is yours! Simply choose your options & upload your photos, and we'll create a truly personalized masterpiece just for you.
Share
View full details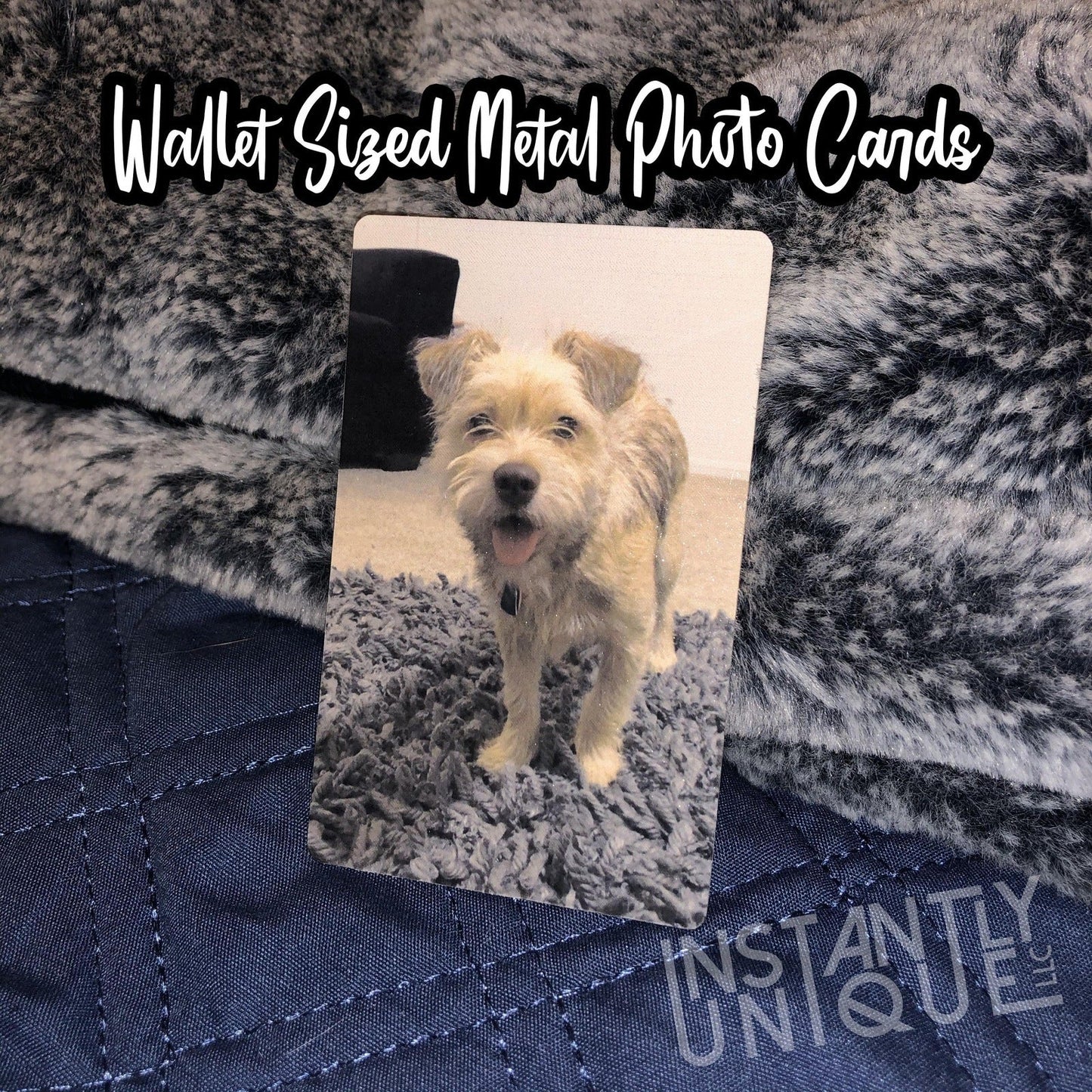 How the ordering process works:
All of our products are made to order when you submit your order. Orders are generally shipped within 3-5 business days after you placed your order.
Ordering more than 5? We can offer you a discount! Click here to check out our wholesale page for more information.

Personalized Product Ordering Process:
1) Depending on the product: Upload your photos on the product page, select your options or type your information and submit your order.
2) After we receive your order, we will begin working on your artwork. 
Will you get a custom order proof?
✅ Yes - If you selected you would like a custom order proof if asked.
✅ Yes - If you ordered a custom business logo product.
❌ No - Your item is a text only design (like just adding your name to something)
❌ No - If your your item is a select a animal/person illustration. 
If you would like to request a custom order proof on an item that doesn't usually get a proof, just ask us in your order notes in your cart. We'll happily provide one.
Proofs take 1 to 2 business days and will go to the email you supplied on your order. We will not call you. You can also check for your order proof on the order status page.
3) If you are receiving a custom order proof, after you approve your proof, we will make and ship your order!
4) All orders will be made to order and shipped per our processing time. Tracking information will be emailed to your email on your order. 
We provide you with real time access to where your order is on our production schedule at anytime by visiting the order status page here.
Feel free to chat with us by clicking the chat icon at the bottom right if you have more questions!
FAQ
Shipping Info

Our products are made to order and generally ship in 3 to 5 business days. Click here to see our current turnaround time. 

Free shipping promotions may apply from time to time. Check your cart for the latest shipping deals!

Some items come with free shipping automatically and will be noted in the product description and/or product photos.

Restrictions and exclusions may apply.

Personalized products cannot be cancelled, refunded or exchanged.

We want you to be 100% satisfied with your purchase. If there is a quality issue, please contact us for a replacement.
Wholesale & Bulk Orders

We happily offer discounts for every item on our website for orders of 5 or more pieces of the same type of item.
Personalization Policy

By sending or uploading a photo and/or text (including quotes, etc) to Instantly Unique, LLC - you agree to the following:

Design Proofs:

You acknowledge if sent a mock-up or design proof, you must approve designs, mock-ups and/or product proofs via text message or email, as allowed - prior to your order being made.
If you do not reply within 24 hours, your order will be completed to the best of our ability and we will use our own artistic discretion.
If your order needs further information & is not able to be completed and you do not respond to correspondence emails and/or messages within 48 hours, your order will be subject to cancellation.

Artwork & Intellectual Property

The unauthorized use, copying, or distribution of a protected copyright, trademark, service mark, trade name logo, design, portrait, graphic, artwork, photograph, picture or illustration, or any other intellectual property (collectively "Intellectual Property") is prohibited. 

By submitting, uploading, or otherwise providing Intellectual Property to Instantly Unique, LLC ("Instantly Unique"), you and any person identified in your account with Instantly Unique, LLC (jointly "YOU" and "YOUR") warrant and represent that YOU are the sole, legal owner or licensee of all rights to the Intellectual Property, and that the submitted Intellectual Property is free and clear of infringement or any legal restriction.

Instantly Unique, LLC accepts no liability for any unauthorized use, copying, or distribution of any Intellectual Property. Nor does Instantly Unique, LLC have any obligation to verify whether YOU have legal rights in the Intellectual Property since Instantly Unique, LLC is relying on YOUR representations. 

By submitting, uploading, or otherwise providing Intellectual Property to Instantly Unique, LLC, YOU agree, at YOUR sole expense, to defend, hold harmless, and indemnify Instantly Unique, LLC, against any claim or lawsuit alleging that any of the Intellectual Property submitted, uploaded, or otherwise provided by YOU to Instantly Unique, LLC infringes any copyright, trademark, trade secret, other Intellectual Property, or otherwise violates applicable law or constitutes an infringement, that the Intellectual Property is being wrongfully used, or that YOU violated any of the above representations. YOU will also pay all damages and costs, including reasonable attorneys' fees, incurred by or levied against Instantly Unique, LLC as a result of any such claim or lawsuit. Instantly Unique, LLC reserves the right to defend any action brought against it in connection with YOUR alleged infringement, misuse, and breach of representations concerning the Intellectual Property; however, YOU agree to be responsible for Instantly Unique, LLC damages, costs and expenses, including reasonable attorneys' fees incurred defending such claim or lawsuit.

Instantly Unique, LLC reserves the right to refuse to print any design considered, in Instantly Unique, LLC sole determination, to be in poor taste or offensive.

You agree the image(s) and/or text you have sent to Instantly Unique LLC are your own original photo/text/art & to the best of your knowledge are not copyrighted, trademark or otherwise have the rights of uploaded content reserved or restricted.
Instantly Unique LLC reserves the right to ask for documentation for any suspected copyrighted works & your order may be subject to cancellation if that information is not made available.